Blogees,
I'm always stressing the importance of being educated on cannabis, right? Ok well how about learning to do what I do, educate the uneducated?
Check out this amazing course coming up from GoNORML, aka Chicago NORML, that trains you how to lead educational house call courses! This information is crucial for getting employed in the industry! It's only 25 bucks!
And the course will be held at the business of one of Clear As Smoke's WCW's, Tiffany Reynolds! Here's a little more info about her, including her interview! (Click on the word interview lol)
Check below for all the details, or click here!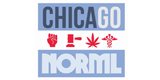 ---
Train the Trainer- Pre Holiday Session
10/14/2018 10:00 AM – 01:00 PM CST
Location
Soul and Wellness Medical Marijuana Services
2007 S. Blue Island Avenue
Chicago, IL 60607

Description

Taught by members of the Chicago NORML Education Committee.